Never snows in Majorca, Oakley photo shoot
by Diego Cirera | May 14, 2014
Preproduction
We shot the Oakley "Beyond Reason" project With Tour de France winner Cadel Evans, and World Champion Triathlete Javier Gomez Noya in the middle of the winter, generally speaking not the best time of the year for outside shooting, but do to the nature of the project as it often happens we didn't have much of a choice.
Spain is not really a bad place for outdoor shooting in the winter time you still get plenty of sun light, temperature is quite mild, and chances for rain are slim to none.
I got the first contact about two weeks before shooting, and briefing came shortly after that.
Funny enough the reason why we shot in Majorca wasn't because of the great locations or the nice weather, we shoot in Majorca because the first cycling race of the season is there.
Planning
The whole project had ups and downs because as always it was hard to coordinate the schedules of the big shots.
But we finally got into location scouting and I realized this was happening for real.
The weather forecast at the time was not great, but acceptable the classic "partially cloudy" which in plain English means "we have no clue" or "anything goes"
Under normal circumstances I would have suggested weather insurance, but no insurance company in Spain would have insure us five days before shooting, plus these insurances don't come cheap as you all know.
Scouting
So a couple of days before the client's arrival I was good to go, my crew lined up, equipment, transportation, catering, etc. and most important permissions, oh! I forgot to mention the whole thing was being shoot mostly on roads, if you have done road shooting before, then you know you must have your permission in order unless you want to end up with your ass in jail with a very heavy fine.
Since we didn't have time for the final scouting with the client to get the permissions, we got permissions for every single location there was, in Spain that is a lot of paperwork.
Client came 15 people approx. I forgot to mention (client didn't mention it much neither) there was a video crew piggy backed on top of the photo crew, in my experience usually it's the other way around since video or film production tends to be more complex. Again, the "small" video crew (which included Hollywood producer Bill Wiles) were carrying two RedOnes.
We had two days for technical scouting, there was one location we couldn't see, up in the mountains with the road closed because of the snow, needless to say it was one of the client's favorite locations.
In spite of not being able to see all locations things were looking good, we relaxed in the hotel (maybe too relaxed), had some tapas and went to sleep (kind of).
I woke up early to get things ready for the final technical scouting and looked out the window, Majorca was all white! the first snow blizzard in 25 years! I couldn't believe it.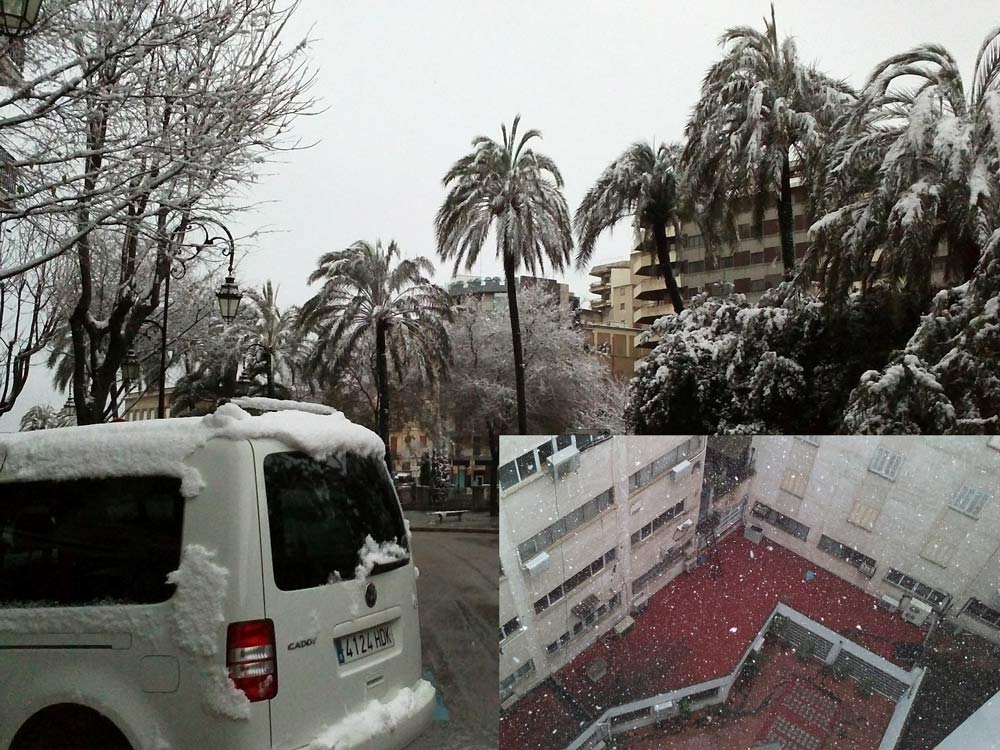 There was nothing I could do, had breakfast and decided to wait for the weather to improve, right before lunch the rain stopped (it wasn't snowing anymore).
With the rush to get going I fell on my ass while getting on the mini bus and sprained my wrist.
Again the locations were good and we were ready to shoot, the weather had turn around completely, it was a beautiful sunny Saturday afternoon, and then the bomb "we need a helicopter to get up there" (dammed mountain).
A helicopter in Majorca a Saturday evening for Sunday, well we got the helicopter but after internal discussions they decided to take their chances and wait for the roads to open… We started shooting the next day.
Shooting
As you already guess, we shoot everything pretty much as intended (in spite of some scheduling issues with Cadel Evans) I got some pictures with my sports heroes (which I'll keep to myself), and we even got to shoot the dammed mountain, so the snow, the helicopter, and the broken wrist ended up being just another anecdotical story shootings and productions are full of.
One of the best Sports photographers in the world Mike Powell was in charge of the  Still Photography, and Mark Shonka was the videographer.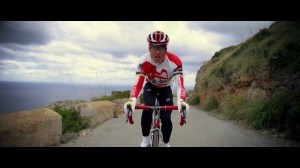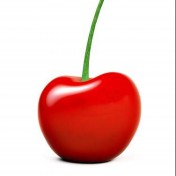 About Diego Cirera
Diego is a self-taught computer geek & creative producer.
He's been working in production for video, photography, multimedia, website production and online marketing for almost 20 years. Polyglot.
PS. If you are wondering about the gravatar, Cirera means Cherry in catalan.